"Yay woo hoo!" My friend Chloe and I exclaimed. It was a school day but I was on a fun filled field trip to Camp Lincoln. When we got there, one of the activities we did was a nature walk.  To me it was super exciting. Here is my list of questions I was thinking about for the nature walk: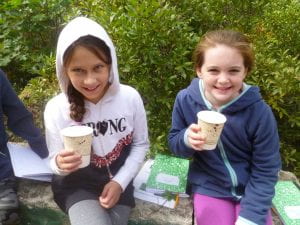 What are we going to do on the nature walk?
Will we study the plants?
Where will we write in our writer's notebook?
 Where are we going to walk?
But little did I know that all of my questions would be answered soon. First what we did was draw out all the plants that we were going to collect for our delicious and scrumptious nature mint tea that we would be making on the nature trail. After we drew out plants we all gathered in a large group. We started down the nature trail!
" Oh, oh, oh," said Birch, AKA a counselor.
"What what is it?" every kid wanted to know.
Birch said, "Well it seems that I have found an Indian Cucumber. Come and I will show you how to pick one. First what you do is dig a little hole around it. Then what you do is carefully pull it out. And then you actually eat the root."
We had so much FUN on the rest of the hike to the point! When we got to the point we had a chance to write in our writers notebook! After that we drank the tea that we made! Then we went back to the pavilion! We had such a fun time at Camp Lincoln!!!!!!!!!!!!!!!!!!!!!!!!!